Make a Positive Shift to Your Workplace Culture
Has your company been impacted by the Great Resignation? Maybe you've noticed a slump in productivity, or perhaps engagement has started to decline.
Any of these challenges could be a sign that it's time to pay attention to your employee experience and make changes to motivate and support your staff.
To introduce positive change, start by focusing on one of the most widespread elements of culture: communication. For better or worse, the way your people share information, interact and give feedback will have a significant impact on an organization's climate.
In our latest guide, Bridge the Gap to a Better Workplace Culture, Human Resources and Learning & Development professionals will gain strategies and activities to transform the way employees communicate.
What's Included?
In our latest guide, Human Resources and Learning & Development professionals and other leaders will discover:
Strategies to overcome 5 communication pitfalls that negatively impact culture, including:

Information inequity across teams and levels

One-way flow of communication

Rifts in working relationships

Feedback mistakes

Intent-impact gaps

Reflection questions to:

Identify existing issues and opportunities

Determine next steps to create a culture of communication that engages staff and inspires productivity

3 easy-to-implement activities to:

Support manager-direct report alignment

Improve information sharing within teams

Create a company-wide plan to enhance communication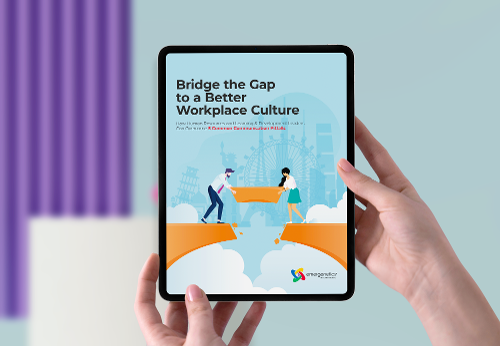 Download Your Guide Today